Programs
Here is good sampling of all the activites you can participate in as a member of the Canyon Sages. Classes and activities take place at differing dates and times so always make sure to refer to the Canyon Sages Newsletter and the Canyon Sages Calendar for the latest offerings.
On the first Friday of the month from September through June, volunteers get together and create magical free Social Suppers for the Canyon Sages. The afternoon involves a brightly seasonally decorated interior, wonderful wholesome menus and entertainment by local musicians.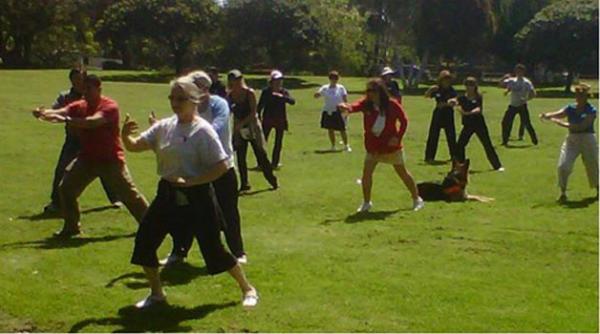 Tai Chi in the morning--exercise your second chakra after breakfast
On the second Thursday of every month Sages gather together to discuss their book of the month and decide what exciting offering they will read for the next. Generally held between noon and 1:30pm in the meeting room at the Topanga Canyon Library. Bring your lunch, everyone is welcome.
Every Friday at 10am knitters gather at the library for free instruction led by experienced knitter Karen Dannenbaum. All levels are welcome to the Adult Knitting Class, from beginners on. E-mail Karen at karen.dannenbaum@gmail.com and she'll tell you what to bring.
Usually held on the last Friday of the month in a private home, this gathering of musical enthusiasts is joined by local musicians. $5 donation is requested for the accompanist.
Workshops & Informational Lectures
A varied menu of speakers on how to negotiate Medicare to how to avoid scams focused on Seniors, most Wednesdays are devoted to topics that are of great interest to our Sages. Watch for announcements of these special events in the Topanga Messenger the community calendar OneTopanga and of course
Blending yoga postures with movement and music. Every Monday from 1 - 2 pm, appropriate for most levels. Please bring a mat. To contact instructor Sharon Donaldson: sdonaldson626@gmail.com